The Christmas holiday season can be a great time to indulge yourself and others in big, small and unusual treats. I'm always on the prowl for the new and different.  We all like our old standbys; comfy slippers, ornaments, gift cards and the like, but why go standard when gift options like these exist?  Whether buying for someone with eclectic taste or the person who seems to have everything, take a look at these options for ideas and inspiration. 
1.  Carlos Sobral jewelry has been imitated but never duplicated.  Sobral resin jewelry is made from recycled industrial waste and crafted in his workshop in Brazil.  Known worldwide for colorful, pop, playful and brilliant designs, this wearable art is available at museums, in select boutiques and at Sobral retail stores.  Sobral recently made his official U.S. debut with the opening of a boutique in New York's Soho neighborhood offering fashion and home designs.  Prices start around $30 for these eco-friendly products.  You might have guessed I'm a big fan.      
2.  Everybody loves a little bling on occasion and not always of the authentic variety.  So many great designs that work for any time of day are available from Liz Palacios, Sorrelli,  Nadri and Badgley Mischka just to name a few.  Kate Spade produces some of the most eye-catching  designs available like the Lady Marmalade ball charm bracelet and Petite Fleur ring and charm necklace.  Simply stunning.  Prices are generous but these fakes are the real deal.        
  3.  I became familiar with celebrity manicurist Deborah Lippman's nail lacquer at a cosmetics trend show earlier this year.  Who doesn't love a good nail color?  It's a nice affordable splurge when the expensive designer bag is not really an option.  With colors like Wicked Game, Happy Birthday (great for the holidays) and Ruby Red Slippers, these lacquers make great stocking stuffers and gifts for the diva on your list.   
4.  Garrett's Popcorn just might be the best popcorn you can buy.  Based in Chicago, Garrett's sinfully delicious popcorn has delighted locals and visitors from around the country and world for over half a century.  In Chicago it's not uncommon for customers to stand in long lines for CaramelCrisp or the wildly popular CheeseCorn and caramel mix, the perfect combination of sweet and salty.  Fortunately you too can have the Garrett's experience when you order online at garrettpopcorn.com.  The perfect year-round treat.
5.  The Aurea Dish Rack is a work of art by Spanish design shop Delica.  This striking dish rack is made of cutout interlocking shapes and folds for easy storage.  It comes in several colors and designs and has been featured in a number of home decor and design magazines in 2009.  Available at conranusa.com and unicahome.com.  Rack em up!  
6.  Piero Fornasetti was an Italian painter and interior designer who took a whimsical approach to his work.  These 10.25 inch plates are a perfect representation of his artistic point of view.  The plates are still handcrafted by Fornasetti's son, Barnaba and can be found in stock at select retailers or special ordered with a 10-12 week lead time.   A lovely and unique piece of art history. 
7.  Photos do these feathery dolls no justice.  Perfect for so many occasions, Angle Trees by the folks at angelwreaths.com stand about 27 inches and collapse for easy storage.  I own several Angel Wreaths and have added a tree to my collection.  They make great gifts, come in 15 colors, are perfect for the holiday season and many other occasions throughout the year.     
8.   Phaidon Press has translated two of the most successful cookbooks in Europe into English.  The first is The Silver Spoon, which is the most successful Italian cookbook of the last 50 years.  The U.S. edition was released in 2005 and contains over 2000 recipes compiled from different Italian regions.  Next up is I Know How to Cook, a best-seller in France since the original publication in 1932.  The English translation was just released in September, 2009.   This book contains over 1400 simple and easy to follow recipes updated for modern cooks by experts in classic French cooking.  Both books are easy to read and extremely well laid out.  A fantastic gift for the ambitious and experienced cook.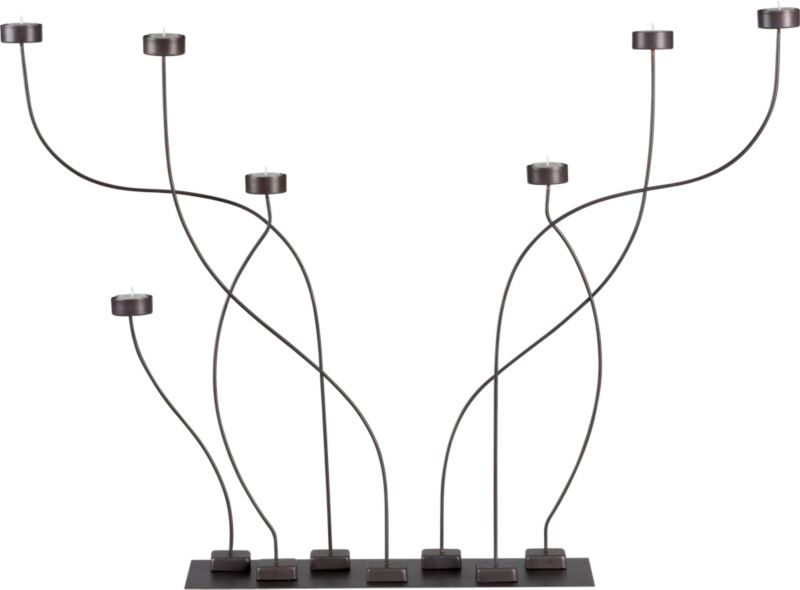 9.  This is one of the funkiest candleholders I have ever seen.  It's the curve candleholder exclusive to CB2.  It's literally an interactive magnetic sculpture with seven moveable hand-welded steel rods.  Create your own art worthy design and festival of lights any time of the year. 
10.  Mariage Frères Tea  has been called the best tea in the world!  Founded in 1854, the company sells over 500 varieties of high-quality tea over the counter and by mail-order.  With over 30 tea counters, restaurants, museums and salons in France, Japan and Germany and a loyal following that raves about their products, this company seems to have gotten the formula right.  Available at various U.S. specialty food retailers.  Impressive!     
11.  Patience Brewster's Dash Away All mini reindeer ornaments and Santa is a lovely gift for Krinkles collectors of all ages.  An obsession among collectors, Brewster's whimsically delightful and fun creations have fascinated and brought joy to the hearts and imaginations of the playful all over.  A good friend and I simply can't get enough of these awesome little creatures, no matter the size.
12.  Place settings of china or other dining pieces are great starter and annual gifts for families and individuals this year.  In fact, a single place setting for a good friend or yourself isn't a bad idea either.  Patterns and styles range from ornate and  formal to everyday casual and prices range from low to major splurge.  This is the Raynaud Cristobal Collection from William-Sonoma Home, one of the best looking and most timeless sets available.  My advice; start with the dinner plates.  Happy dining!