On the way from the chills of winter to the blooming of spring I've discovered a few great items to make the journey with me. All colorful in their own right and just perfect for spring.
Sure to shield you from a light drizzle or driving rain all year round and a stylish sun blocker to boot, these umbrellas from Galleria were on my Christmas list and have not disappointed one bit.  I love the Gerber Daisy auto stick umbrella and have given the Stained Glass Butterfly automatic open and close as a gift.  There are many styles to choose from at select retailers including amazon.com with prices from $18-$28.  Awesome!
I look forward to my morning cup of coffee in my delightful and colorful Kate Spade 10 oz mug.  These and other styles are available at Macy's and Lenox.com for $20.  A great way to say happy spring to yourself or your bestie!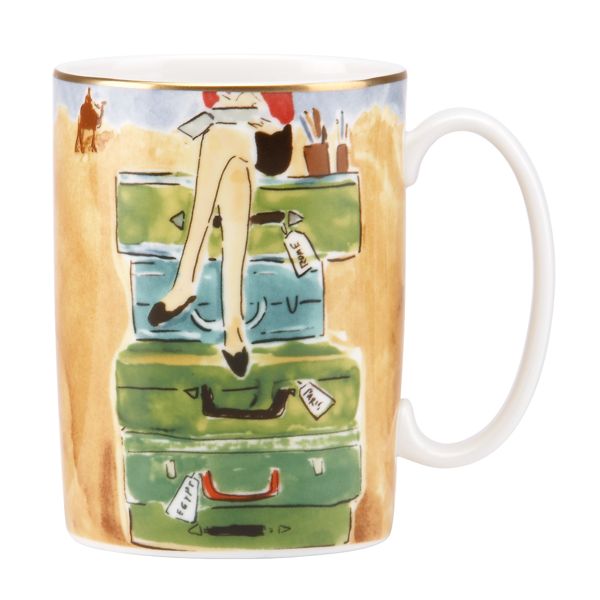 I can't believe I just discovered Putumayo Music!  Putumayo has been around since 1993 with the purpose of introducing people to music from around the world, and boy do they do it well.  Whether you love Bossa Nova, Paris Cafe or African Groove music, this label is guaranteed to have something for you.  It is one of my new favorite finds. Putumayo Kids is a wonderful way to introduce kids to the world with an awesome selection to get them listening and moving.  Being the Christmas lover that I am, I can truly say the holiday CDs are not to be missed for a twist to your holiday music collection.  I simply love this music!  Don't miss the lovely artwork on these CD covers.  Yea Putumayo!  Available at select retailers, Putumayo.com and Amazon.com.
Happy Spring!